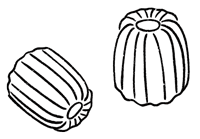 The Canelé recipe
"Canelez" at home
Put on your aprons, this culinary heritage is also yours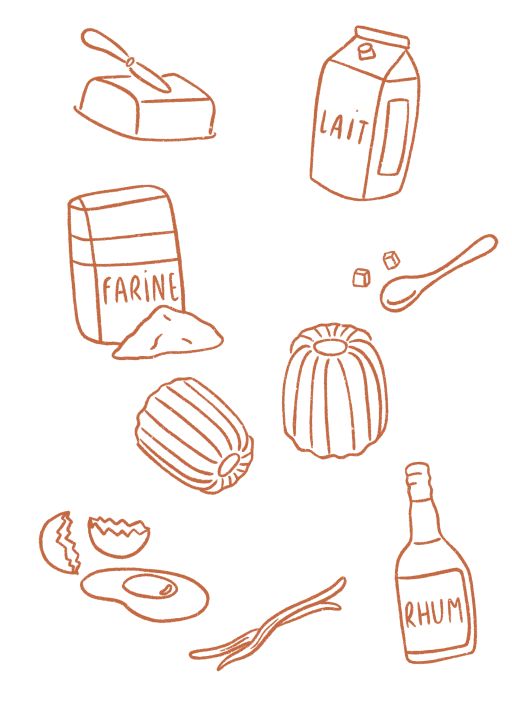 Is it the first time?
Before using for the first time, it is advisable to "burn" the Canelés moulds.

Preheat the oven to 200°C. Grease the moulds and put them in the oven for one hour. Grease them a second time. Grease residue can be removed with a cloth.

For 10 Canelés:
1/2 liter of milk
2 egg yolks
2 vanilla pods
2 whole eggs
250 g of sugar
50 g of butter
125 g of flour
50 ml of rum
The steps (in two times)
The day before
Boil the milk and let the vanilla pods infuse
Mix the sugar and flour
Add the egg yolks and mix
Mix the vanilla milk with this preparation
Mix in the butter and rum
Let it rest in a cool place
The day after
Preheat the oven to thermostat 7 (220 °C)
Mix the mixture well
Wipe and grease the moulds with butter (or vegetable matter)
Place them on a baking sheet
Pour the liquid dough into the moulds
Bake for about 1 hour: 1/4 hour at 220 °C and 3/4 hour at 160 °C
Turn out while hot and let cool

You are the chiefs
With your tinned copper canelé mold, you are now equipped and ready to bake. As this culinary heritage is also yours, we are pleased to share with you the recipe of the Bordeaux canelé known by all, to have the joy of making it yourself.

Be patient though, it will take you two days to make it. Hungry people, please do not eat it.
To be discovered (as soon as possible)
The Maison Baillardran has gone beyond the region to find inspiration to create delicacies that are just as tempting.